Personal loan and refinancing
The right loan for you from Garanti BBVA
Maximum lending limit and currency
Features of personal loans

Refinancing personal loan
Benefits
You enjoy a number of benefits if you apply for a personal loan without real estate collateral or refinance through Garanti BBVA:
Benefit from free Credit Repayment Protection Insurance, which covers: involuntary job loss, death, details here
Moneda
Tip
dobândă*
Indicele
de referinţă
Dobanda
FIXA*
Marjă*
Rata dobânzii
(indice +
marjă)**
Comision
de analiză
dosar
Comision de
administrare
lunară
RON
Fixă
-
9.90%
-
-
200 RON
20 RON
RON
Variabilă
IRCC3M
-
4.95%
10.93%
200 RON
20 RON
*The fixed interest rates and margins shown are valid if you receive your income in an account at Garanti BBVA
**The variable interest rate is updated quarterly, depending on the evolution of the benchmark for consumer loans: on January 1, April 1, July 1 and October 1, for the entire duration of the loan.
***The refinancing balance/sold for a period longer than 5 years of personal loans without real estate collateral contracted before 08.07.2020 is excluded from the analysis fee. Otherwise, the fee from the list of Interests and Fees for loans to individuals will be applied.
Example of calculation for refinancing offer with salary collection:
The Annual Percentage Rate (APR) is 10.71%/year, for a personal loan of 42,000 Lei over a period of 53 months with repayment in equal installments. The interest rate is 9.01%/year, variable, consisting of IRCC at 3 months + bank margin 4.95%, the analysis fee is 200 lei and the monthly management fee is 20 lei. The monthly installment is 983,49 Lei and the total amount payable is 54,412.59 Lei.
Details of the cost structure (interest, fees, other charges)  here.
Important information
Personal loan simulation
In just a few clicks, you can quickly and easily simulate a personal loan.
Personal loans are easy to get
Documents proving income from salaries, rents, pensions, etc. (you can find out more at Garanti BBVA offices);
*During the review of your file, bank representatives may ask you for additional documents or information.
2
Refinancing loans from other banks
3
Find your nearest Garanti BBVA branch.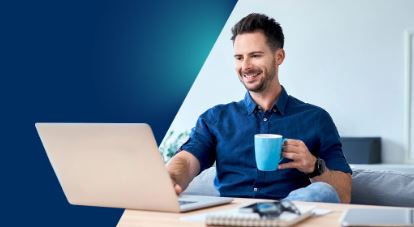 Open online account Learn more The benefits you get with Garanti BBVA Online Whether you're on holiday abroad, in the office or at home, you
Find out more