With Garanti BBVA Mobile you have everything at your fingertips! Download it now!
With Garanti BBVA Mobile you can get so many benefits
Real-time information on the balance of your accounts is available to you
You have information about your transactions
Information about your Bonus Card is at hand when needed
You can pay for your bills or you can recharge your mobile prepay credit
Your monthly Bonus Card debt can be paid easily
You can perform currency exchange
It's so simple to forget about paying the bills, but it's hard to handle a restricted phone or electricity service. Stop worrying every month about paying your bills when you can simply pass this responsibility to your bank. It's super simple. You may authorize the bank to make these payments on your behalf via a Direct Debit mandate, based on previous agreements concluded with certain suppliers.
How?
All you have to do is choose "Direct Debit" from "Utility Payments" sub-menu and select the provider with whom you want to conclude a new electronic mandate. Thus, Garanti BBVA will withdraw from your account each month, at the due date, an amount equal to the invoice value and will automatically transfer it to the respective provider's account.
The payments can be made from your current account or from your Bonus Card limit, depending on the settings previously made. You can easily manage your Direct Debits, either by changing their features (maximum amount, current account or Bonus Card from which to debit the money) or by cancelling them whenever you want.
If you want to keep track of each of your monthly payments, you may choose another option from "Utility Payments" sub-menu, called "Invoice Payment", where you have to insert only your phone number or subscriber code, in order for the payment to be made instantly.
Pay for your plane tickets
The first step is always the hardest even when planning a holiday, but after you take it, it all comes natural. With Garanti BBVA Mobile everything becomes easier because you can start planning a new trip by buying a plane ticket only with a click, online. Think about a place, pick a date, open your laptop, access your Garanti BBVA Mobile account and buy it. It's that simple!
How?
The payment happens instantly and you can visualize it in your bank account regardless of the way you choose to pay.
Pay your insurance policies
Life is full of unexpected surprises and you don't want to be unprepared when in need of a fast and simple solution. Fortunately for us, insurance policies can bring this comfort to our lives and we are free to choose the best way to pay for them. Try Garanti BBVA Mobile and everything will be easier.
How?
The secret of happiness is spending time doing things you really like. But wasting your time standing in line to pay your monthly invoices is not such a pleasure. Get rid of it with Garanti BBVA Mobile. With Garanti BBVA Mobile's help you can pay your fees to EOS KSI, Garanti BBVA Credit Consum Ralfi, Garanti BBVA Leasing Motoractive and Kruk Clienti only by using the Internet.
How?
Domestic and international transfers
There is nothing more satisfying than resolving a problem fast or helping a friend in need without postponing. Use Garanti BBVA Mobile and you will always be ready to properly face any situation, because with Garanti BBVA Mobile you can easily transfer money to any bank account.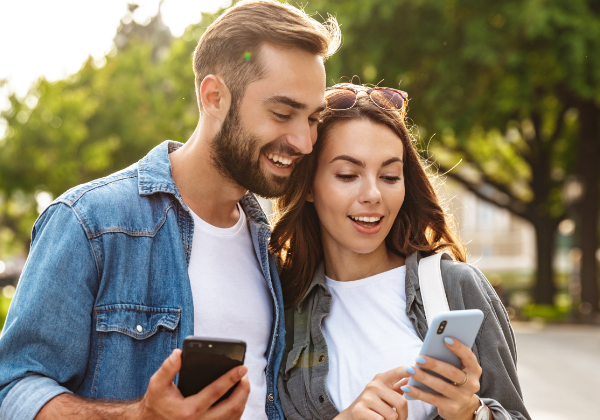 Living without a mobile phone in our times is impossible. That is why to run out of credit on your mobile phone feels like being let alone on a deserted island. Use Garanti BBVA Mobile and you will never feel the drama again, because you can top-up your credit online, wherever you are.
How?
The top-up value will be withdrawn from your current account or from your Bonus Card limit.
Piggy banks are so cute that it's a shame you always have to break them. Save the piggy banks and start saving money like a real pro with Garanti BBVA Mobile, a must have for people who want to become more provident. Why? Because it works just like a manager for your money.
And if you have different goals to achieve, by using Garanti BBVA Mobile you can create, name and manage multiple saving accounts at the same time.
Banks are like friends. They should help you whenever you need their help and they should be sincere in order to trust them. With Garanti BBVA Mobile you enjoy transparency related to all details of your loan.
Use Garanti BBVA Mobile to visualize and print the repayment plan, the loan amount and the debt-to-date.
You can find all the information you need about Bonus Card stored in one place: Garanti BBVA Mobile.
Are you interested in a Bonus Card? Garanti BBVA Mobile is the shortest way to get it. All you have to do is access your account, apply for a Bonus Card and follow your application status.
Do you already own a Bonus Card? With Garanti BBVA Mobile you can see your available limit, the accumulated bonus and the history of your transactions. Also, you can pay for your credit card debt.
Use Garanti BBVA Mobile and keep up to date with:
Transaction limits Garanti BBVA Mobile
| Operation type | Maximum per transaction | Daily Maximum Limit | Minimum per transaction |
| --- | --- | --- | --- |
| Internal payments in Lei | 500.000 Lei | 500.000 Lei | 1 Leu |
| Internal payments in Lei | 500.000 Lei | 500.000 Lei | 1 Leu |
| Payments in other currency except Lei | 500.000 Lei | 500.000 Lei | 1 Leu |
| Foreign Exchange | 1.000.000 Lei | 1.000.000 Lei | 1 Leu |
| Arbitrage | 200.000 USD | 200.000 USD | 1 USD |
Deadlines for receiving the payment instructions by Garanti BBVA Mobile