An account that rewards you every time you use it.
Choose the attached MasterCard Bonus Debit Card Lei Current Account and receive 0.15% of the value of each card payment as Bonus Points. You can use these points when you shop in one of the Garanti BBVA partner stores.
0 Fees and costs for the current account
Advantages and benefits of a Current Account in Lei
0 fee for opening and closing the current account
0 fee for the query of the balance at any Garanti BBVA ATM
0 fee for issuing and renewing the Bonus Debit Card
0 fee for managing the account if you receive your salary through Garanti BBVA
0 fee for collection in the current account
0 fee for Bonus Debit Card payments online and at merchants
The benefits of a current account with Garanti BBVA
Enjoy having safe internet transactions through 3D secure system
Cu Bonus Card, poţi face cumpărături online extra-sigure, activând la dispoziţie un extra-filtru de securitate: 3D Secure. Acesta îţi permite să confirmi toate plăţile efectuate online în două moduri:
Asigură-te ca autentificarea prin Face/Touch ID sau amprentă este activă pe dispozitivul tău.
Cum funcţionează? Pe scurt, de fiecare dată când tu sau utilizatorul cardului suplimentar veți face cumpărături online de pe un site înrolat în 3D Secure, la plata cu cardul pe site, se va deschide o pagină nouă în care:
Te rugăm să te asiguri că ai notificările mobile activate din setarile telefonului, special pentru aplicația mobilă Garanti BBVA România. Poți să le activezi din meniul Notificări sau Aplicații din setările telefonului, în funcție de modelul deținut.
Easy to obtain
Online
You can open an online account yourself in Garanti BBVA Online.
In agencies
You can come to any of the Garanti BBVA agencies
Garanti BBVA belongs to the category of credit institutions that contribute to the deposit guarantee scheme administered by the Bank Deposit Guarantee Fund.
Customers' money in current accounts, savings accounts and Garanti BBVA Term Deposits are guaranteed up to EUR 100,000, in Lei equivalent, according to the criteria mentioned in the Depositors' Information Form and in the List of Deposits Excluded from the Guarantee.
Frequently asked questions
What documents are required to open an account?
What documents are required to open an account?
For newly issued Bonus Debit Card holders -> Call Customer Service any day between 9:00 and 22:00: 021.200.94.94 (standard rate number) or 0800.80.1234 (toll-free number in the landline network) to activate your card and enter your PIN. Use the short number 1-1-1-1 for Romanian or 2-1-1-1 for English and your new card is activated on the spot.
If you have a newly issued Business Debit Card for legal entities, please contact the agency where you applied for the card to receive the PIN envelope. If your card is renewed because it has expired or become damaged, you can still use your old PIN. The card is already active, no need to call Customer Service. All you need to do is make a transaction using your PIN.
How to activate the card?
How long does it take to receive the card?
What are the main advantages?
How can I find out my IBAN?
How can I get a bank statement?
Steps for opening a current account in Lei
1
Prepare the necessary documents
2
Find your nearest Garanti BBVA agency
3
Sign your account agreement
You might also be interested in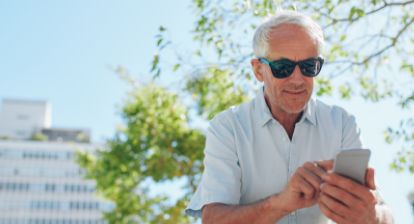 SMS Alerts service from Garanti BBVA saves you from any worries regarding the management of your money.
Find out more